Airtech System Earns Outstanding Quality Supplier Award by Chipbond.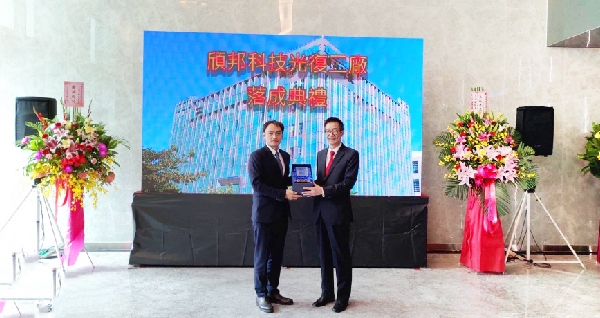 We are thrilled to announce that Airtech System has received the prestigious " Outstanding Quality Supplier by Chipbond Technology Corporation AWARD" !
Mr. Cheng Shih-Chieh (to the left), General Manager of AIRTECH had the honor to receive the Award on behalf of the company, during the inauguration ceremony that took place on November 30th 2021, in the brand-new buildings of Chipbond Technology located in Hukou Industrial Park.
The company exclusively uses AIRTECH's FFUs (Fan filter units) in their whole premises. These series of products from Airtech's portfolio have been highly praised by their customers due to the following characteristics: "High efficiency", "Ultra-quietness", "Excellent monitoring system", High efficiency motor", and a "wide range of construction material selection".
Their solid cooperation with Japan's largest clean room equipment company: AIRTECH JAPAN Ltd. associated with their golden rules of, putting customers first, sustainable management and Quality have led them to continuously providing high performance, clean, advanced, high -end technology products to Taiwan's electronic semiconductor industry.
That being said, Airtech also takes their Corporate social responsibility very seriously and actively complies with relevant global sustainability norms which they believe are significant drivers for corporate success, creating balance and benefiting the society as a whole. The goal here is to become the reference in terms of clean room equipment in Taiwan and the whole industry, thus dynamically contributing to good manufacturing practices.
AIRTECH Fan Filter Units
The fan filter is an equipment that supplies purified air in a given space in order to reduce the proliferation of particulates in that space. Because the cleanliness level may vary from one activity to the other, they are often called upon to help their customers meet a vast array of requirements, hence their list of various specifications. In their effort to respond positively to the environmental standards, they offer this series, equipped with a DC high-efficiency energy-saving motor which helps reduce the energy consumption without reducing performance. It is also equipped with a communication software to monitor the status of the FFU at any given time. AIRTECH's FFUs present the following features:
1- High-performant, ultra-quiet
A special air duct is designed to reduce generated pressure as well as noise.
2- Various material of construction (MOC)
Materials to select from encompass: Steel plate baking varnish, stainless steel SUS 430, aluminum-zinc plate etc.
3- Customized monitoring system.
Dotted with a high-tech single chip communication control box, facilitating the equipment monitoring in the whole company.