AIRTECH Negative pressure management towards COVID-19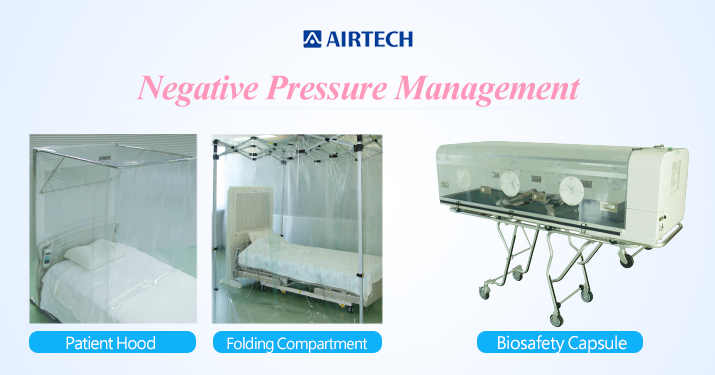 In November 2019, an unexplained pneumonia broke out in Wuhan, China. A "COVID-19" epidemic caused by a new coronavirus has spread to more than 30 countries around the world in just 2 months. The disease is spreading at a speed not seen before this century.
The purpose of setting up an isolation ward is to isolate special infection patients from other infection patients in the medical care institution, so that medical personnel can protect their occupational safety and prevent the harm of nosocomial infection when receiving and treating patients.
AIRTECH is committed to promoting negative pressure equipment as the first line of defense to prevent rapid spread. For the isolation of infectious diseases, the following related products are available for reference:
A. "Biosafety hood": Transparent plastic soft curtain isolates the upper body of the patient, so that infectious bacteria and viruses do not spill out and contaminate doctors and other personnel. The negative pressure unidirectional airflow inside the hood is cleaned and filtered by high-efficient HEPA and released outside the hood. The hood is easy to install with move on casters, also could reduce the feeling of claustrophobia in patients.
B. "Simple folding compartment" is also a simple negative pressure ward. The foldable, stowable compartment requires no tools and is easy to install. To maintain negative pressure within the compartment, cough bacteria, viruses will not spill. The air in the ward is filtered by high-efficiency HEPA filters and discharged outside the compartment.
C. "Biosafety Capsule" is also called negative pressure stretcher for patient transportation. The capsule is kept under negative pressure, the patient coughs the virus, and the bacteria are replaced inside, effectively preventing the cross infection. The contaminated air in the capsules is processed through HEPA filter and released as filtered air.
D. "Clinic Room Purifiers": Protect medical staff and purify polluted air by using a large area HEPA absolute filter, the effect of filtering 0.3μm particle is more than 99.99%, which can effectively remove bacteria and pathogens in the air; prevent virus spread and prevent mutual infection. Ultra-quiet design, only 40dBA in standard operation. Waiting, consultation room, laboratory and office and other public places is suitable to adopt this design.