High-Capacity Air Purifier Unit (PAU)
High-Capacity Air Purifier Unit (PAU)
· Packaged type clean unit automatically purifies to remove allergens and pollutants from the air. Every single filter system is tested by an electrical particle counter individually with certification. It can remove 99.97% of pollutants as small as 0.3 microns.


· The indoor air can be purified with the assembled cleaning unit. There are models such as the indoor circulation type or conduit connection type. If air conditioning is provided through the connection of conduit, it becomes a clean room with air conditioning performance.


· In-door breathing quality for the school-age population
According to the report, more and more children in school-age are suffering from asthma due to air pollution risk. On the basis of the Department of Health, Taipei City Government indicates students in first grade suffering from nasal allergy are 50%. Also, in children, allergic rhinitis has increased 7 times within 20 years. In 2012, the TAAACI publication mentioned the rate of children having asthma is 20.3%. If exposed to air pollution in adolescents, adulthood is more likely to die prematurely due to lung and cardiovascular disease.


· The risk of PM2.5
PM2.5 (particulate matter) means that the diameter of a particle is less than or equal to 2.5um; a particle in the air with a diameter less than 0.1um is called a "superfine particle". Through breathing, particles entering mucosa and blood would harm the health widely. If a human is exposed in a short time, the chance of respiratory tract hypersensitivity and serious asthma would be increased; if exposed in a long period of time, the rate of having vascular diseases and lung cancer would be increased.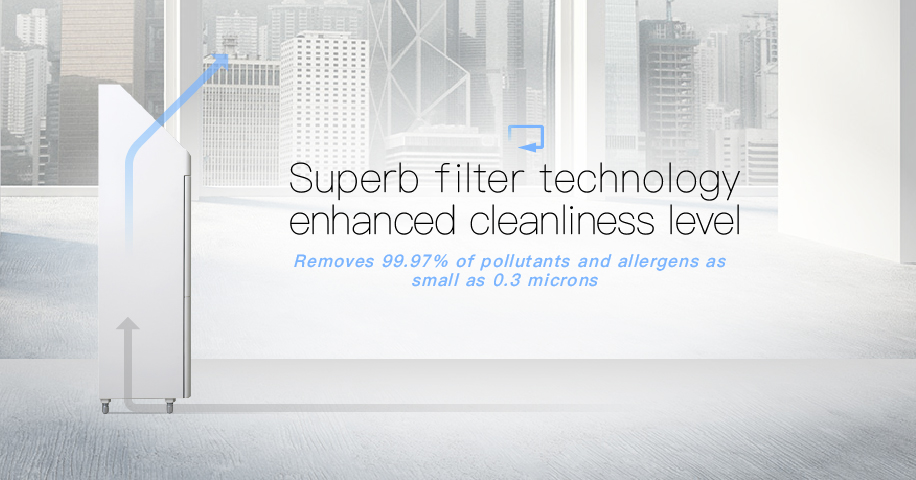 · Easily clean the interior air
Packaged type clean unit passes the safety test excellently. With superb filter technology, harmful particles are accurately trapped. With the space-saving design, it can be placed against the wall or hanged on the corner to reduce dust mite, and smog. Air is filtered by a high-efficiency filter at the bottom and the clean air is exhausted from the top.


· Circle diagram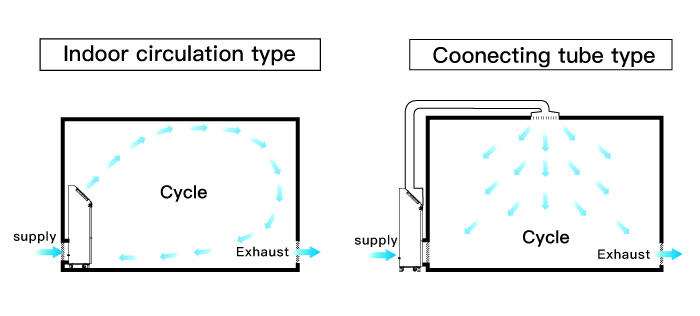 | | |
| --- | --- |
| Model | PAU-40G PAU-60G PAU-80G |
| Dimension (W×D×H)(mm) | 1000x420x1500 1320x420x1500 1500x500x1700 |
| Particle Efficiency | Above 99.97% Efficient On 0.3µm Particles |
| Pre-Filter | Non-Woven Filter x 2pcs |
| Main Filter | HEPA Filter x 1pc |
| Air Volume (CMM) | 40±15% About 60 Hi:80 / Lo:60 |
| Construction | Cold-rolled Steel with bake painting |
| Color | Pearl white |
| Electrical | AC 1Φ110V 60Hz AC 3Φ220V 60Hz AC 3Φ220V 60Hz |
| Power Consumption (VA) | About 480 About 1200 Hi: About 1000 / Lo: About 500 |